What is a wind guard?
Updated a year ago
A wind guard is used to protect the flame from blowing out in windy conditions. It is a good idea to consider including a wind guard for your gas lantern if it is installed in an area where it is exposed to wind gusts.
It sits below the flame, so the flame is still visible.
Here is a wind guard: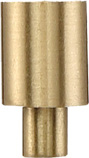 Was this article helpful?